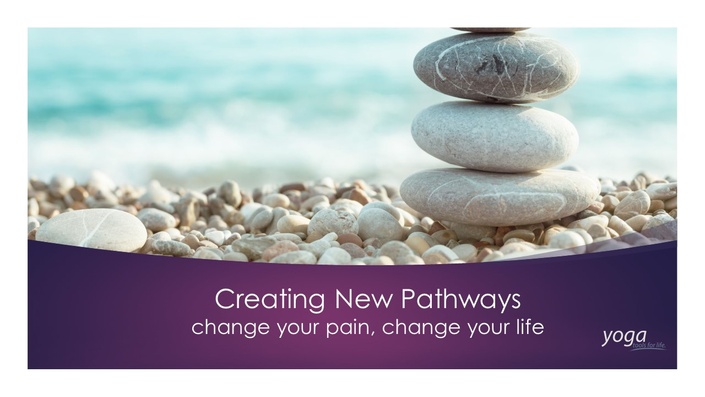 Creating New Pathways: change your pain, change your life
Practices, information and supportive explorations to create new pathways, new possibilities
Enroll in Course
How might it feel to live with more ease?
No matter what you call it, persistent, chronic or complex pain affects everything.
It interferes with daily functioning and likely every area of your life.

Perhaps, you've been faced with this for a very long time. Years. You may have a lot of uncertainty around your pain. It's confusing when you try to make sense of what makes it better or worse, the changes you notice in your body and your life. You wonder what will happen as you grow old? You've likely been to see so many different people. Tried many different treatments yet find they don't seem sustainable over the long term. You've been told it's good to move and exercise and you would like to, but you don't know where to start. You miss walking, golfing perhaps, going on vacation, socializing with friends, playing easily with your grandchildren, having fun. Imagine what it might feel like, if these activities were possible for you again.
Might you return to living your life, in a way that is meaningful to you?
I have been there. Pain in my SI joint, next in my shoulders, then my feet and finally my hips. I didn't know what to do at first, particularly as I was making a living 'moving' as a new yoga teacher. I can say I no longer live with persistent pain and I have been able to get on with living a life that is meaningful to me.

Getting out of pain is neither simple or easy.

Yet, there is considerable evidence that we humans are adaptable. What has been shown to help you recover from persistent or chronic pain is understanding pain, along with engaging again in movement of some kind. If you can learn and understand how you got to the place of pain, this in itself has been shown to be an effective 'treatment'. And it can show you the way out. Movement, is one of the best ways to retrain your pain systems, CREATE NEW PATHWAYS.
Almost always there is a change in someone's pain whether I'm working with them 1:1 privately or they come to a group session. However, what I want to help with is sustaining this change. If you can change your pain once, you can change it again. You can learn how to turn down the volume of pain.
In these 6 weeks, you will explore and navigate your own unique experience of pain. Which is not the same as anyone else's.
You will learn:
H

ow and why your pain increases. What your contributors to pain might be.

What helps to decrease pain, manage pain, get rid of YOUR pain.

How to manage stress and learn ways to calm your nervous system. After all, life IS stressful and the nervous system plays a big part in pain.

How to move, with a sense of safety.

To build awareness of subtle changes and signals in your body, throughout the day.

To explore this through gentle movement, breath and other practices.

Practices to help you sleep, as sleep also plays a role in persistent pain.

How you CAN begin to make changes to your pain. What we now know about pain (neuroscience) and why this matters to your recovery. Pain clinics, chronic pain self-management programs contain this educational piece to help you understand the reasons why your

pain can change

. How you can gain some control, some influence on it.
You will have time and space to explore and bring awareness to your triggers, your contributors to pain which are not the same as for anyone else. Which is why applying one standard 'treatment' for pain, usually doesn't work for people over the long term.
You will gain confidence that by creating a plan you can sustain this for yourself over the long-term.

There's no gimmicks. No special equipment you need to buy. Rather, my promise to you is to provide current information, resources and practices that are evidence-informed and provide ways for you to self-manage and have some control over your pain. All done at your own pace, in your own time at an affordable price (see available options when you click to purchase the course) and yours to keep forever.
Learn to be your own, best, resource.


What You Will Receive:
A recorded presentation providing an overview of the week, some education about pain science, current research, why it matters to understand your pain systems (15-30 min each).

Movement practices, broken down into manageable pieces of time so you can practice them all at once, or bit by bit as you have the time and energy to do so. From 2-4 video's each week, usually around 10 minutes each in length. Practice them on their own, or combine them into a 20 - 30 minute practice.

An awareness, breath or self-regulation practice.

A quick summary sheet of what to focus on, practice throughout the week.

Additional resources, often referenced in the video presentation. This might be reading material, exploratory guides, relevant and trusted YouTube video's, research on a particular subject.

A weekly Zoom Group Chat where you can ask questions, interact with me and others taking the course.

If there's interest, we can set up a Facebook page where you can interact with others, while you move through the 6-week program.

A few surprises, along the way ...
You'll come away with a plan forward. What makes sense for you to do daily.
Your Instructor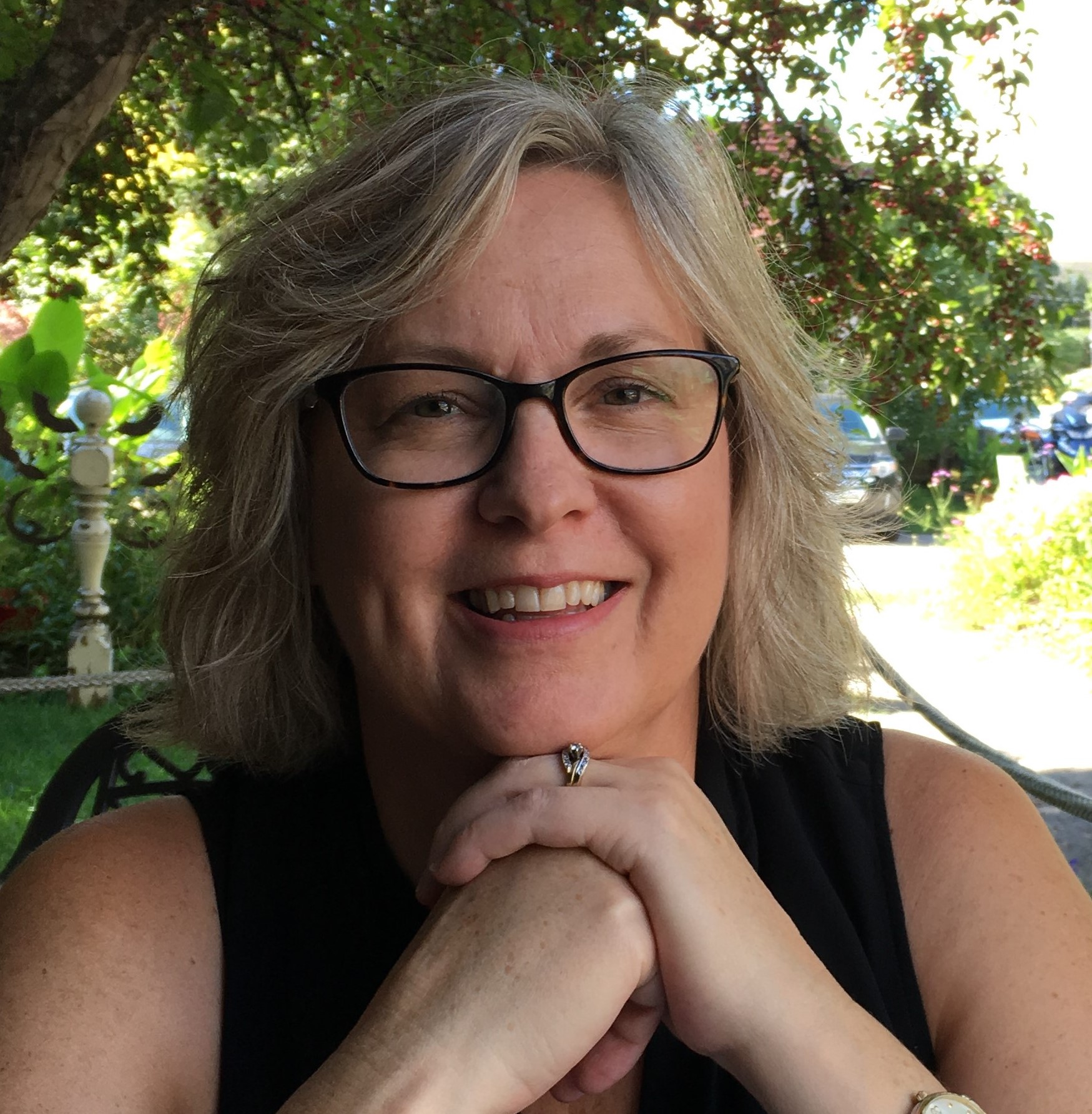 Jody is a Yoga Therapist (certifying), a Certified Pain Care Yoga Teacher, and a Registered Yoga Teacher (RYT500) with a particular interest in helping people with chronic or persistent pain. Though there can be a wide variety of other presenting conditions or concerns supported, as noted below.
She currently offers one-to-one yoga therapy sessions to people with a wide variety of health concerns, but primarily focuses in on those with complex pain conditions. She has experience working with people with fibromyalgia, chronic fatigue syndrome, rheumatoid arthritis, osteoarthritis, pelvic pain, general musculoskeletal pain (low back, hips, shoulder, neck, feet are primary sources for many), and those experiencing pain during or recovery from cancer treatment. Along with pain, people often present with anxiety, depression, sleep disturbances and trauma related to their experience of living with pain on a day-to-day basis. Overarching many of these is chronic stress and disturbances to sleep.

With an understanding of a biopsychosocial approach to pain and it's similarities to the holistic approach that yoga practices and philosophy offer, Jody integrates contemporary pain science along with supported self-management tools, techniques and practices.
Jody has completed a 2-year accredited yoga therapy program and expects to complete practicum requirements in 2022, which will allow for application to be Certified by the International Association of Yoga Therapists (IAYT).
Topics Each Week:
Week 1 - Safety, Agency and Movement Guidelines

Week 2 - Pain and the Nervous System

Week 3 - Stress, Life & Regulation of the Nervous System

Week 4 - Breath's Influence, the Overflowing Cup & What's Just Right for You

Week 5 - Contributors to Pain, the 3 P's, and a Dash of Compassion

Week 6 - DIMs & SIMs, Building Capacity & Resilience, Daily Planning
Frequently Asked Questions
When does the course start and finish?
The course starts Wednesday, July 22, 2020. Each following Wednesday, the next lesson will be provided (July 29, Aug 5, 12, 19 and 26th). You might wonder, "why not provide everything all at once?" I encourage you to practice what you learn each week. You can review the materials and practices at any time and the content is yours to keep forever. You get to decide each week how you'd like to schedule it in and, you can take as long as you like. But some key messages are to find some time and space, slow down and that consistence practice is important. Each Friday you will have an opportunity to ask questions, connect with others on the weekly zoom Q&A chat at 11:00am ET.
How long do I have access to the course?
How does lifetime access sound? After enrolling, you have unlimited access to this course for as long as you like - across any and all devices you own.
What if I am unhappy with the course?
30-day Guarantee. If you're not satisfied with the course, contact us and we will give you a full refund.
How do I know this course is right for me?
You are looking for a long-term solution to your pain. How many quick-fix things have you tried, how much money have you spent, how often do you have to go ... do ... these things and still don't get RESULTS? You want change. You want a way forward. There is something that's important to you, something you love to do, something you'd like to be able to do, to work towards. If you're not motivated to do the work, change is unlikely. This motivating factor is important. It is one of the keys to success.
Are you willing to spend a few minutes each day, to live a life with more ease, less strain and pain, to sleep better?
It doesn't have to take long. It doesn't need to be complicated. What helps most is understanding pain, how you can change your pain and to get moving again. Choose to live a longer health-span rather than just a longer life-span? We are living longer, yes. What quality of life do you hope to have? If you want to spend those last 10, 20, 30 years with health, mobility, still able to do things that bring meaning to your life, put in some time now. Just a little. But a little each day will make a difference.
How do I know this course is NOT right for me?
If you're looking for the quick-fix. If you're looking for someone to tell you what THE exercise is, or THE pill, or THE newest tool, gadget, roller, that's going to be 'the thing' to fix you forever, this is probably not for you. Science repeatedly shows that you need to be engaged. You need to engage your brain, your nervous system, your physiology which means you can't have something passively done TO YOU. You, need to do the work. Get curious about how you can move and that it is safe to do so. Listen in. To your body, your environment, your life as it is today. The practices and the information presented will help you explore and learn this. My goal is to teach you what you can do, with my guidance at first, so that you know what's best and right for you in all the days ahead.
I remember being in your shoes. Being handed a diagnosis and an uncertain future.
From all I've learned and practiced, my future has changed.
It's no longer plagued by stepping out of bed in the morning and straight 'into pain'.
It can change for you as well.
There is no shortcut, no "quick-fix" but the outcome is for long-term quality of life, health and well-being.
You will be able to create a plan forward.

Create a New Pathway.
Pain changes everything. And everything, can change pain.

Come along and learn how you can do that for yourself.
Invest in your long-term health, for only $25/week