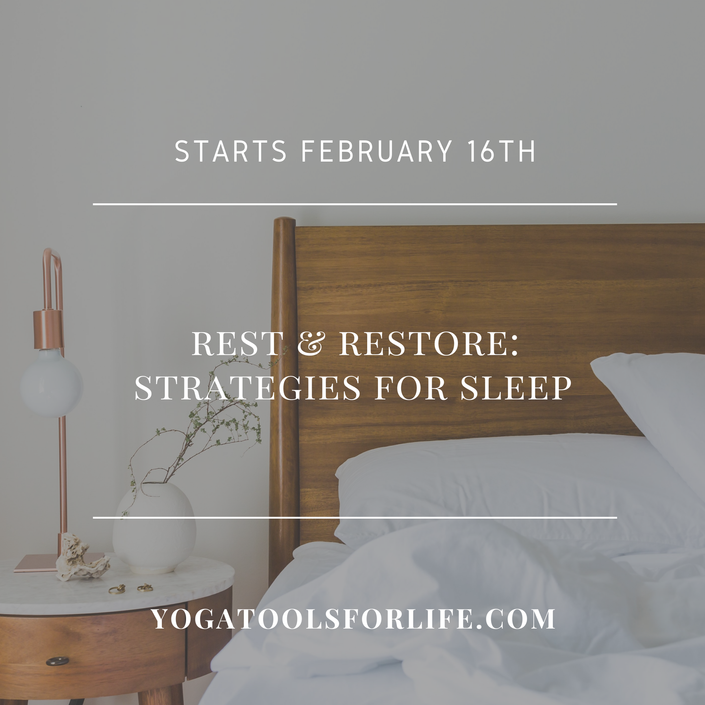 Rest & Restore: Strategies for Sleep
supportive practices, resources and information to help you sleep
Sleep
A key component to health. How you feel during the day, depends on it.
Can you remember a time when you traveled (that might be hard...so long ago)? Due to jet lag or the change to your routine how you ate, slept, digested (& eliminated) food was off? What that felt like? Like you had a foggy brain, perhaps?
Your body, your brain, your systems, like routine.
Your brain constantly makes predictions about what's going to happen using past history, memory, your daily habits. Even for simple things like reading so you don't have to remember letters, how they're put together into words that then form sentences. Or how you just automatically know how to move. Get up, sit, stand, ride a bike. It would be exhausting if your brain had to (re)learn these tasks each day. Your brain also learns what you teach it to do at certain times of the day. When predictions or habits change, you might have a hard time adjusting.
I can imagine your habits and routines, things like prediction and reliability have changed over the past few months.
What affect might that have on your sleep schedule?
That might be one piece of the puzzle.
Add in the complexity of relationships, work, family and financial stressors. Excess screen time. Less physical activity. Isolation or loneliness. Depression and anxiety. Is it any wonder why you might have trouble getting to sleep, staying asleep or getting up out of bed in the morning? It makes perfect sense to me if you notice feeling overwhelmed, experiencing, some or all of these things and that your sleep is affected. I can relate.

All these disruptions in your daily life.

There are many ways to influence sleep. To restore a beneficial sleep pattern. As with anything, what is useful or beneficial will be unique to you. This is really important to understand and why some 'treatments' fail. Just as your life is like no one else's life, what works for you WITHIN your life is unique. So it takes a little time and commitment to explore these aspects.

There is probably already a lot to manage in your life so let's take a slow, gentle and compassionate approach to the exploration.
A 4-week, online workshop. Just for you, in the comfort of your own home.
Providing you with practices, tools, resources, some research, what we know about sleep.
> finding safety > decreasing threat > how to rest > sleep hygiene

> movement practices > breath practices > grounding practices

> stress & the nervous system > circadian system > homeostasis
> the effects on pain, mental health, immune & cardiac health, type ii diabetes
> touch > warmth > distraction techniques > connection > social support
There are things your can do during the day that will help, rather than "just" trying to get to sleep once you lay down in bed. What we know about light, technology, modern pressures to 'do more', the loss of extended family and how all these affect sleep.

Our society doesn't really take sleep seriously. Until there is a problem.
"Is this just going to be a bunch of restorative yoga poses? Or meditation, or breathing practices? I've done them all before and it didn't really help. In fact, sometimes it made things worse."
These can be helpful and some will be included yet you often need to try something else. It's common that when you stop everything, have nothing left to do, are laying in stillness ... that's when your mind starts to race. That's when you can't seem to find peace, calm, a quiet mind or a comfortable position.
This is about moving towards a place of stillness, rest, sleep. Also, what else you can do to retrain your systems.

Though sleep is meant to be an automatic reflex in order to maintain balance in your systems much the same as eating and drinking, it can sometimes become disrupted or dis-regulated. Both frustrating and exhausting if you struggle getting a good night's rest. Waking up in the morning, tired.
I most often work to support people living with chronic pain, and there is a often cross-over with secondary health challenges like anxiety, depression, digestive issues, IBS, etc. At least 50% of people living with chronic pain also have sleep issues. In fact, some studies now hypothesize if it's a lack of sleep that creates the chronic pain, not the other way around. Recent studies are exploring the same in terms of anxiety, bipolar disorder, depression and schizophrenia.

Of course there will be people who should consult with their family doctors, go for testing, attend a sleep clinic, see a psychotherapist, etc. Yet, there is also a place for how you can learn and incorporate many things yourself. With support.

I would love you to join me in this exploration. Time and space and tools you can use to move towards sleep. Towards rest. A sense of calm and peace. Learn what works best for you.
We begin, Tuesday, February 16th.
In these 4 weeks you will explore:
What affects your sleep. The various contributors to a restful, or conversely, disrupted sleep.
How stress affects the nervous system and your sleep. Learn ways to calm your nervous system, manage through these stressful times.
Building awareness of subtle changes and signals in your body throughout the day. How you respond and what this means in terms of sleeping.
What you can do during the day, to make a difference.
What you can do leading up to sleep or right at bedtime to help.
Practices you can use when you wake up in the night.
How you CAN make changes or influence your sleep.
General sleep hygiene.
How to REST during the day to build capacity to meet your needs. Not napping, not sleeping. Yet, deep restorative rest.
Each Week:
Change into some comfy clothes or pajamas, maybe bring along a warm beverage to sip on. First, 10-15 minutes providing information about sleep, current research and why it matters to understand your sleep and sleep systems.
Next, 20-30 minutes of gentle movement, explorations and other unique practices to explore, experience and learn what's just right or helpful for you.
Finally, 5-10 minutes of quiet time to incorporate what you have learned and experienced in the session, or perhaps journal about.
Opportunity afterwards to ask questions, connect with others, build community... or you can just crawl into bed.
A recording of the practices, along with other resources you can use.
Your Instructor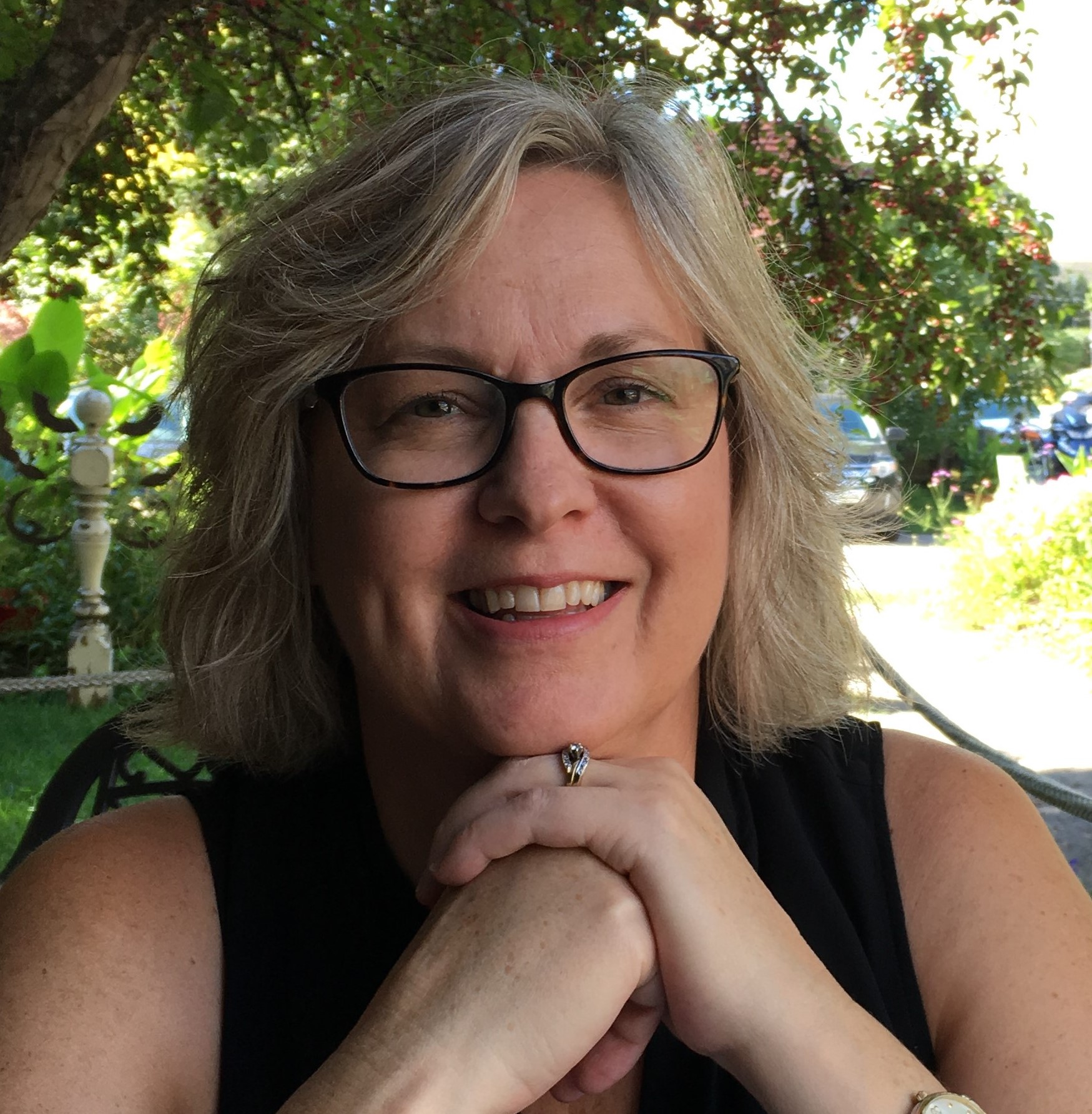 Jody is a Yoga Therapist (certifying), a Certified Pain Care Yoga Teacher, and a Registered Yoga Teacher (RYT500) with a particular interest in helping people with chronic or persistent pain. Though there can be a wide variety of other presenting conditions or concerns supported, as noted below.
She currently offers one-to-one yoga therapy sessions to people with a wide variety of health concerns, but primarily focuses in on those with complex pain conditions. She has experience working with people with fibromyalgia, chronic fatigue syndrome, rheumatoid arthritis, osteoarthritis, pelvic pain, general musculoskeletal pain (low back, hips, shoulder, neck, feet are primary sources for many), and those experiencing pain during or recovery from cancer treatment. Along with pain, people often present with anxiety, depression, sleep disturbances and trauma related to their experience of living with pain on a day-to-day basis. Overarching many of these is chronic stress and disturbances to sleep.

With an understanding of a biopsychosocial approach to pain and it's similarities to the holistic approach that yoga practices and philosophy offer, Jody integrates contemporary pain science along with supported self-management tools, techniques and practices.
Jody has completed a 2-year accredited yoga therapy program and expects to complete practicum requirements in 2022, which will allow for application to be Certified by the International Association of Yoga Therapists (IAYT).
Course Curriculum
Week 1 - General Sleep Hygiene and Using a Compassionate Approach
Available in days
days after you enroll
Week 2 - Stress, the Nervous System and the Effect on Sleep
Available in days
days after you enroll
Week 3 - Sleep Systems: Circadian and Homeostatic Systems
Available in days
days after you enroll
Frequently Asked Questions
When does the program start and finish?
The program starts Tuesday, February 16th, and continues for 4 weeks. The presentation and practices will be live on zoom each Tuesday evening and recorded for your reference. You might wonder, "why not provide everything at once?" I encourage you to practice what you learn each week. You can review the materials and practices at any time. Much of the content will be downloadable and yours to keep forever. If you can't make the live session, you decide when to schedule it in. But a key message is to find some time and space, slow down and that consistency is important.
How long do I have access to the course?
You will have access to the course for 30 days following the last session. Much of the materials and content will be down-loadable, so yours to keep forever.
What if I am unhappy with the course?
We would never want you to be unhappy! If you are unsatisfied with your purchase, contact us in the first 14 days and we will give you a refund.
How do I know this course is right for me?
You are looking for a long-term solution. How many quick-fix things have you tried, how much money have you spent, how often do you have to go ... do ... these things and still don't get RESULTS? You are willing to bring an open mind, curiosity to learn and explore the options and tools that will be unique to you. What you can use to help with stress, create more ease and a better sleep. It doesn't have to take long. It doesn't need to be complicated. What helps most is understanding sleep and sleep systems and how you can use this information, along with practices that help settle you into sleep each night. Or ease you back to sleep if waking up either during the night or early morning.
How do I know this course is NOT right for me?
If you're looking for someone to tell you what THE exercise is, or THE newest tool, gadget, that's going to be 'the thing' to help you to sleep better, this is probably not for you. Listening in to your body and engaging your brain, your nervous system, your physiology matter. The importance of routine and consistency. The practices and the information presented will help you explore and begin to embody this. My goal is to teach you what you can do, with my guidance at first, so that you have tools and resources available for all the days ahead.
Learn what you can do to influence, change, or adapt your sleep patterns.
Practice patience, kindness and compassion for yourself while you engage in finding what works best for you.
Find rest, resilience, sleep.
I hope you'll join me and others while we walk through life's challenges, together.
This course is closed for enrollment.
Finances tight? Or conversely, if you have extra resources and would like to sponsor someone else, please send me an email at [email protected] I really hope to make this accessible for anyone who feels they might benefit.